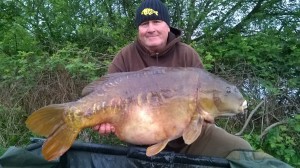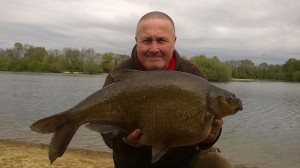 The New Lagoon
This new water has become very popular and good mixed bags are frequent. Lisa Bedford had lovely Bream just shy of 6lb along with other smaller samples and species. A few of the regular match guys had a day on there at the weekend and Tony Crossley had another great bag of fish including Tench, Bream, Rudd and Roach. Bob Doyle was catching some nice skimmers on the lead using maggots, Lee Wakeman had a small Barbel of around 2lb and other mixed species. Everyone caught plenty of fish, although the morning was a bit slow but things improved in the afternoon.
The Old Ballast Pit
It continues to fish well with the lake being very busy over the last few weeks. Lots of Carp to 20lb+ being caught with the best being 32lb. Some cracking bags of good sized Bream and several nice Tench to just over 7lb making an appearance.
Richard Briggs had a nice mid-week session on one of the short stay swims, catching a nice 25lb mixed bag of fish which included a surprise 3lb Chub.
Barden Lake
Things have really picked up in the last few weeks with several of the big Carp making an appearance. Bailiff Co-ordinator and specimen hunter Ted Bryan had a great trip last week, starting off with a magnificent Bream of 13lb 12oz, followed by specimens of 12lb 12oz and 12lb 8oz. Ted then followed these up with a cracking 47lb Carp. Well done Ted.
Weirwood
The predator fishing continues on here until the end of this month and Pike fishing has vastly improved from last winter with several upper twenties coming out and lots of good doubles. The Perch fishing has not really got going yet but on a recent trip, I went out with two friends, one, new to this type of fishing doing really well, catching fish of 2lb and 2lb 3oz and I had one of 1lb 13oz. The next few weeks should start throwing up some big burglars. Watch this space.